Gosh, I have not been a good blogger this week! The good news is that there's not much to report. I did end up getting some insoles for my running shoes. After scouring the internet and coming home with a "burning" sensation in my toes after Thursday's 5-miler, a "diagnosis" of a neuroma was made. The knowledgeable guy at the running store got me fitted for a pair of insoles (with a 60-day money back guarantee). Of course, he advised me to NOT wear them for the 20-miler today, but I have been wearing them around casually and they definitely make a difference. That said, I completed today's 20-miler without much pain at all in my toes. Go figure.
As for the 20-miler today. I was really dreading it. I was anxious and nervous. Turns out it was all for not. Although it was rainy/drizzly/foggy/humid the whole time, it was all in all a great run. With our multiple stops (thank you Tim Hortons and McDonald's) and a couple of doozy-hills, it took us around 3:52. Not too bad for my first 20-miler (remember one year ago I couldn't even run 2 miles)! I stayed on track taking my GUs, carried my water and sipped consistently, and took 800 mg of ibuprofen at about mile 10. The multiple potty and water refill stops were just what my feet needed to keep going and finish the distance. Our poor feet got a bit beat up with the soggy socks and all. I've gotta say though, my SmartWools really did well. I think I'll have a couple of small blisters on the sides of my feet, but nothing bad. Our feet definitely looked like they had been submerged in a bath tub for 4 hours, by the time we got home.
The post-run ice bath was breath-taking as usual! My calves are pretty tight and my bum hurts. Nothing a steady stream of ibuprofen can't help! As much as I would like to do a 22-miler next week to give me more confidence....my mind has been set on 3 weeks of tapering. And as I found out last week, if my mind's not in it....the run will be bad!! So I finish this week with a weekly total of 40 miles. My biggest yet. Perhaps it's not as high as it could be, but according to my training plan/book, it's just enough. That's what I'm looking for. Just enough to get me across that finish line. And based on today's run and our past 3 long runs, I think I'll have enough steam in the engine to go 26.2. Hooray for tapering! Here's a few more pics from the morning.
The family greets us when we return: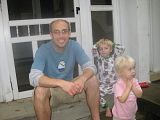 Mommy....where have you been?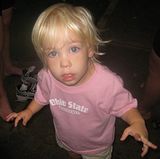 Our toes....