So my rainy Monday didn't prove to be the downfall of my whole training schedule after all. I trudged through three days in a row of running! Not a feat for most, but it is for me! I have to say though, my legs were tired and sloooow today. We got in our 5 miles, I iced my right shin and I'm already enjoying the feeling of getting to "sleep in" tomorrow. Oh yeah....if you're a parent of young children there are no "sleep in" days (and I actually have to work tomorrow)! It's a good thought, though! Thanks to LogYourRun, I've been able to keep track of the mileage on my shoes. I had to estimate the miles prior to starting training for the marathon, but I think I have a pretty realistic record. Currently, I have 417 miles on my shoes. That will take me up to 585 miles, by the time I finish the marathon. Yikes! I think the proof is in the pudding though.
Example A:
Now, I never really paid much attention to my shoes when I first got them, but I'm pretty sure they were level to begin with!
Example B: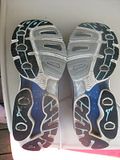 No wonder the balls of my feet hurt! So with a heavy heart and $135 less in my bank account, I will head over to my trusty running store. Maybe my aches and pains will get some relief (if only hubby saw it that way)!