Despite a fantastic run this morning, all I can remember about it is that it was short. I was scheduled to run 4 miles....I ended up doing 3.87 miles, and it really burns me! I blame it completely on my Nike+. I had to restore the factory settings last week and it wiped out my sensor's calibration. Is it the anal dietitian in me or the anal runner in me that falling short of my goal makes me so angry? It would be one thing if I was feeling really poorly and just couldn't finish, but that's just not the case. You can be sure I'll spend the next few hours trying to let go of this issue!
So like I said, the run was great this morning. Great weather, no aches and pains. I worked on my "postive self-talk" throughout the run (the mental training component this week in
TNRMT
). I tried out Cooper's new
Dog Collar Wallet
. It's a nifty new gadget I got to store my cell phone and poo bag (not *my* poo bag of course). Not sure how many other people run with their dogs, but I'm always looking for new doggy running gear. I just realized that I've been talking about my faithful running dingo, but have never posted a picture of the guy. Here he is....in all his dingo-goodness-glory: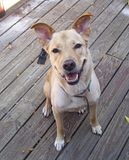 . Pretty cute, huh?! What makes him even cuter is how nice and gentle he is with the kids. We truly couldn't have asked for a better family pet. Afterall, he was our baby first! But I digress! Hubby and my 8th wedding anniversary is coming up. We're going away to Columbus for the weekend. I have a 14-miler planned for that Saturday, so I hope to run it on the actual marathon course. Speaking of
marathon
, did I tell you that I'm officially registered....as a marathoner and everything?! Pretty exciting! But more importantly, I'm in anniversary shopping mode for my new watch. While I like my Nike+, I'd really like to have a watch that can monitor my HR, distance, etc. I don't want to spend gobs of money, because really I'm just a novice and don't need all the bells and whistles. Just the basic components. I thought I wanted the new
Garmin FR60
, but now I'm not sure that I want another foot pod. Any advice from you experienced runners? Well, that's about it for today. I get to spend the day at home, thanks to working the weekend!